With warmer (and longer) days just around the corner, our city is springing back to life. Read on for the local events you just don't want to miss out on, as well as the insider tips and lifestyle cues curated just for you.
The number of units sold year-to-date has increased by 0.8% in DC, 3.4% in Montgomery County, and 6.6% in Anne Arundel County, while decreasing by 7.3% in Prince George's County and 18.7% in Northern Virginia*. (1/1/20-2/27/20 vs 1/1/19-2/27/19)
Across the DMV, the time homes were on the market before being sold, on average, decreased year-to-date — from 39 to 28 days in Northern Virginia, 55 to 50 days in Montgomery County, 62 to 53 days in Anne Arundel County, 40 to 37 days in DC, and 47 to 42 days in Prince George's County. (1/1/20-2/27/20 vs 1/1/19-2/27/19)
At the same time, the median price of sold homes increased by 4.2% in DC, 8.1% in Montgomery County, 14% in Prince George's County, 6.1% in Northern Virginia, and 1.6% in Anne Arundel County compared to the prior year. (January 2020 vs. January 2019)
*Northern Virginia encompasses Arlington, Alexandria, Fairfax, McLean, and Falls Church.
Data courtesy of Broker Metrics
12 celebrities to follow on Instagram for design inspiration
Just because a celebrity has amazing taste in decor or art doesn't necessarily mean they choose to show it off on Instagram. Some use their pages primarily for promoting their work, some are all about the selfies, and others entertain their followers with adorable pictures of their children. But here, Architectural Digest has rounded up the celebrities who share their design passions on their Instagram pages enough to warrant a follow.
Party like it's Cherry Blossom season.
Purchase your tickets now to welcome springtime to the District in style, and experience an evening filled with festive entertainment, delicious food, and over the top fun.
12 new DC area bars and restaurants to try now
This spring, indulge in everything from shrimp wontons, to Southwest-style queso, uni pasta, and more. Discover the full list here courtesy of Washingtonian.
Cool things to do in and around DC
As our nation's capital, DC is an infinitely popular spot for tourists from all over the world. And while photographing cherry blossoms and taking a Segway tour around the monuments are all well and good, there are plenty of things to do this spring in the District that are perfect for locals and first-timers alike. Discover them for yourself here.
Patios for a chic outdoor oasis

With spring just around the corner, it's time to rethink your outdoor oasis. And even if you have limited space, believe it or not, you can still achieve your decorating goals. For inspiration, consider some of Elle Decor's favorite small patio designs -- from Hamptons escapes to cozy urban spaces.
Long-lasting flowers to brighten any space

You can never go wrong with a gorgeous arrangement of flowers in an interior, especially during the spring season. Florals can add a touch of elegance to a living room, dining area, or even a bedside table. To help you on your quest to find the right arrangement for your space, browse Farmgirl Flowers Founder Christina Stembel's list of her go-to blooms that will last long enough for you to actually enjoy them.
30+ spring decor ideas to get excited about

If you're anything like me and willing spring to arrive, you'll appreciate this collection of gorgeous interiors and products that embody the season. From floral wallpaper to nature-inspired art, these practical spring decorating ideas are full of inspiration to make your home more inviting.
How to tackle a spring home makeover

As the weather warms, most people turn their attention to landscaping their yards or gardens (an admirable ambition, no doubt). However, as any design-lover knows, this is also the perfect time to open the windows, clean out clutter, and give your indoor spaces a makeover as well. Here are 26 ways you can spruce up your home this spring.
Moving can be stressful. From packing, to remodeling, staging, and beyond, the list of things to do is endless. Fortunately, with Compass Concierge, the key to a stress-free selling experience is right at your fingertips.
Need helping packing all those books? No problem. Looking to spruce up your space? We've got you covered -- literally. Just looking for moral support? We'll be there. You have a life to live, after all. Why should moving get in the way of that?
Get in touch today to learn how Concierge will make all the difference in your next move.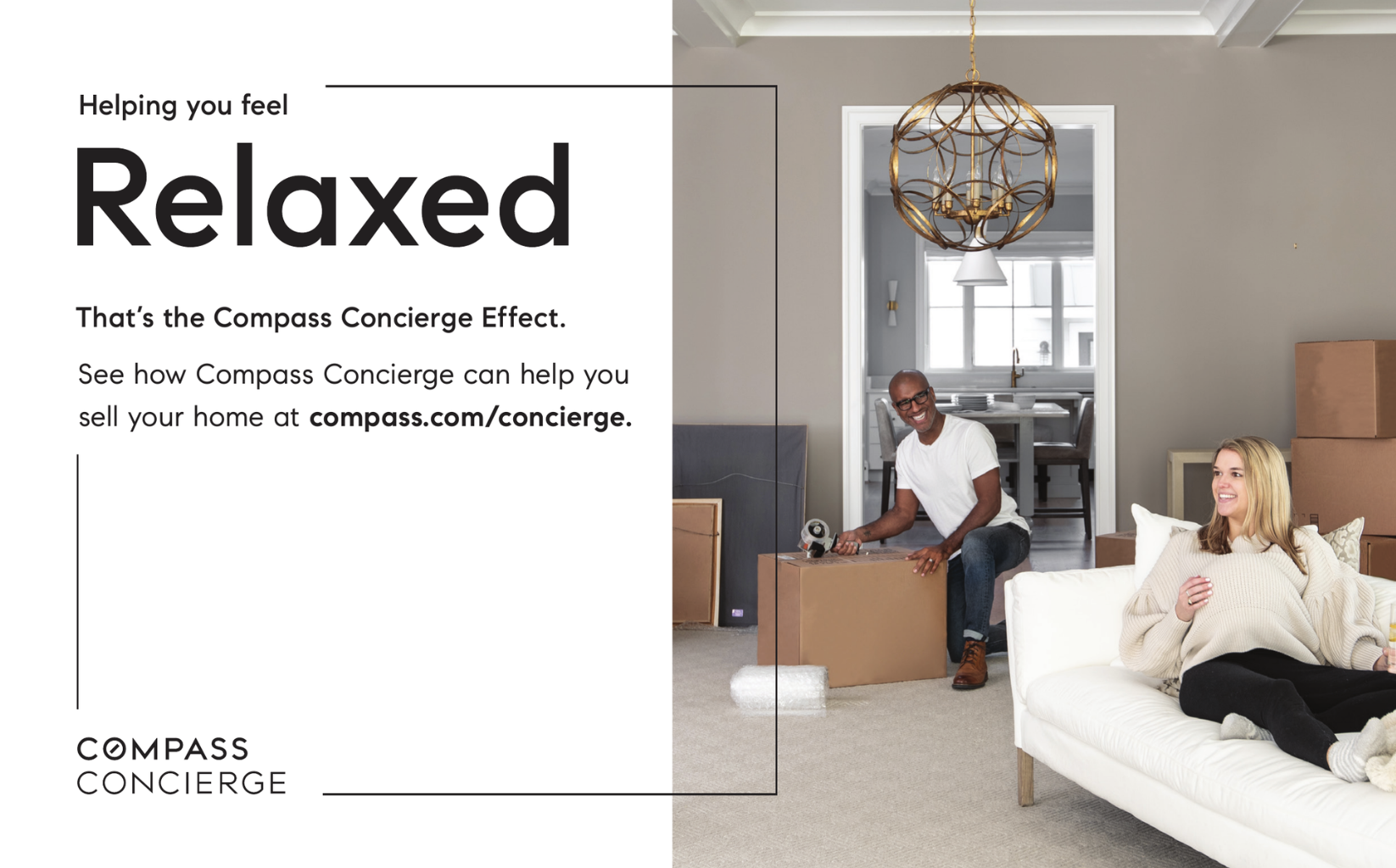 © Compass 2020 ¦ All Rights Reserved by Compass ¦ Made in NYC
Compass is a licensed real estate brokerage that abides by Equal Housing Opportunity laws. Information is compiled from sources deemed reliable but is not guaranteed. All measurements and square footages are approximate. This is not intended to solicit property already listed. Compass is licensed as Compass Real Estate in DC and as Compass in Virginia and Maryland. DC office: 202.386.6330. Maryland office: 301.298.1001.